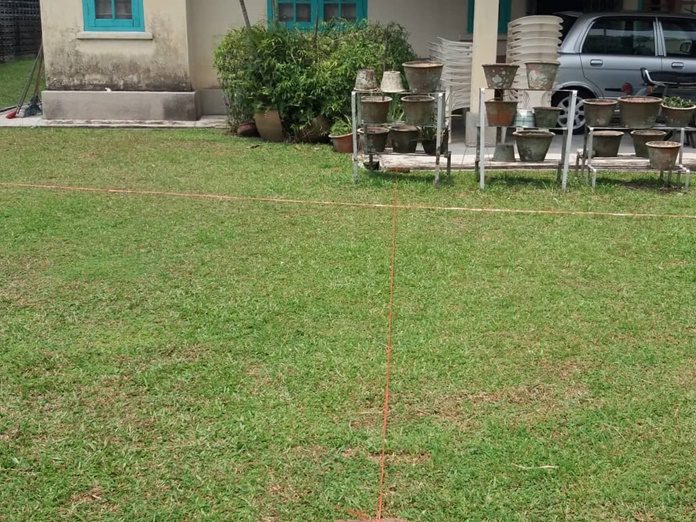 Some time ago, I wondered aloud in this blog what would happen if we kept on widening our roads to cater for more cars.
What would happen when there was no more room to widen the roads?
The first to go would be the pavements and pedestrian walkways, which would become even narrower or disappear completely.
Then, trees would be chopped down to make way for more road-widening. And this is already happening.
What would happen when there was no more space for road-widening, I wondered.
Now we are finding out what happens next.
They are going to acquire your property or cut into your land. You might find yourself next to a highway just nine feet from your living room! Never mind the requirement for a 20-foot setback from the road.
This is what the Byrne family (parents in their eighties) and their neighbours along Mount Erskine Road (just opposite the crematorium) are finding out the hard way. All because the government wants to build a RM30m underpass to connect Mount Erskine Road with Burmah Road ie cutting beneath the Bagan Jermal Road-Gottlieb Road intersection.
And the family claim they will only get about 10% of the market value in compensation for the acquired land. Not that they want to move out. Why would they? Their home, built 70 years ago by their grandfather, holds so many memories. (Much of the area around it was then a rambutan orchard.)
The highway leading to the underpass will pass just nine feet from their living room (see photo at the top). Think of the disruption, congestion, noise and air pollution during construction.
The family actually got wind of the plans some time ago, but then all went quiet ahead of the 2018 general election.
This is just the beginning. Wait till work on the Pan Island Link and elevated light rail system starts – then you will see a whole string of homes, shops and offices being displaced or acquired.
I still remember the fine words of Opposition Leader Lim Kit Siang, who denounced the Land Acquisition Act Amendment Bill in 1991, ironically tabled and passed by the then Mahathir administration:
Land Acquisition Amendment Act will deprive Malaysians of their constitutional right to property and be the mother of all corruption, abuses of power, conflicts-of-interest and unethical malpractices.
The Land acquisition Amendment Bill is one of the most unpopular, unacceptable, divisive and iniquitous Bills ever to be presented in this house in the 34-year history of Malaysia.
When it becomes law, it will destroy the constitutional right to property enjoyed by Malaysians for 34 years since Merdeka, and become the mother of all corruption, abuses of power, conflicts-of-interest and unethical malpractices in Malaysia under the National Development Policy and the Second Outline Perspective Plan 1991-2000.
It is for these two reasons that the DAP has taken a clear and unambiguous stand to oppose the Land Acquisition Amendment Bill. I want to declare at the outset – before irresponsible politicians including Barisan National Minister and MPs distort the DAP stand – that we are not defending the interest of the rich landowners against the poor, or speaking on behalf of any communal group against another communal group.
DAP has taken a clear and strong stand to oppose the Land Acquisition Amendment Bill because we are speaking for all Malaysians and all races who would be adversely affected by the Land Acquisition Amendment Act.
This is because all Malaysians who own land, whether those with large landholdings or the ordinary Malaysian, whether a kampong Malay, a Chinese new villager or an Indian wage-earner, could be deprived of their constitutional right to property under the Land Acquisition Amendment Bill.
DAP does not speak for the large landowners but the ordinary Malaysians, whether Malay, Chinese or Indian, who would be made landless by this Bill
In fact, the large landowners are more than capable of looking after themselves and their own interest through their political and monetary influence with the power-that-be and they don't need the DAP to speak for them.
The DAP is speaking up for the ordinary Malaysians, whether Malay, Chinese or Indian, who own a plot of land whether as tanah pusaka or had acquired it as the fruit of their life-long toil of tears, sweat and Land Acquisition Bill, who could be made landless by this Bill for they would be completely helpless when the Barisan Nasional government moves in to acquire and dispossess them of their only land to profit favoured groups or companies owned or controlled by ruling parties or their political leaders in the name of 'development'.
Make sure you read the full statement. The opposition parties went to town with this issue back then. A huge uproar erupted – and rightly so.
You could understand the need for land acquisition if private property has to be acquired for an essential public purpose that would benefit the community. But to carry out road-widening and build underpasses at a time when we are saturated with private motor vehicles? I don't think so.
The thing is, all this is so unnecessary. Why do we want to pander to more cars when there are so many cars on the road in Penang already?
The RM30m cost of the underpass could be used to buy say, 50 more Rapid Penang buses. That would be a 20% increase to Rapid Penang's existing fleet of about 285-400 buses for the whole state.
Just think: less than 5% of Penangites use public transport. If we could increase this to just 10-20%, we wouldn't need to widen roads. To its credit, yesterday the Pakatan Harapan government launched the Pas Mutiara RM50 30-day travel card that allows Malaysians to use the buses and ferries. (But why discriminate against foreigners, who should also be allowed to use these cards if the goal is to increase the use of public transport. No logic-lah.) These buses and ferries have so much potential, as the Halcrow transport consultants recognised.
But then this same PH government wants to build more underpasses, overpasses, highways and roads on an already congested island. It just doesn't make sense.
The state government wants to emulate Singapore in a lot of areas – but not its extensive use of public transport: 67% of Singaporeans use public transport. Now the island republic – which is almost as large as Penang state – wants to increase it to 75%.
Long before it introduced its mass rapid transit subway system, Singapore worked on improving its buses and getting the system right first, including last-mile connectivity and shaded pedestrian walkways – which Penang lacks.
Now Singapore (population 5.6 million) has three times the number of residents as Penang state (1.8 million). But Singapore has about 5,800 buses whereas Penang has only 400.
What this means is:
Singapore has 15 times more buses than Penang although its population is only three times larger and it also has an underground train network
Singapore has one bus for every 1,000 residents – Penang has one bus for every 4,500 residents
Going by the Singapore coverage, Penang should have almost 2,000 buses on the road – and not a miserable 300-400. We need five times more buses on the road!
Do you know that the efficient buses in Singapore carry more passengers than its MRT trains. That's how good they are. A relative of mine even takes his toddler son for fun bus-rides during weekends.
So why are we pandering to cars by building more roads, underpasses, highways and tunnels especially in this era of climate change?
The only people who will profit from this are the contractors and ….?
How short-sighted and lacking in vision can the state government get? How can it talk of a Cleaner, Greener, Healthier and Safer Penang and a Penang Green Agenda with a straight face?
Meanwhile, keep an eye out on whose property or land will be acquired next to make way for more cars. What is happening to the Byrne family and their neighbours is just the beginning. Who knows who could be next!