Parit Buntar MP Mujahid Yusof Rawa visited Kuala Lumpur Archbishop Murphy Pakiam at his office today. Also present at the meeting were Penang Bishop Sebastian Francis and Johore-Malacca Bishop Paul Tan.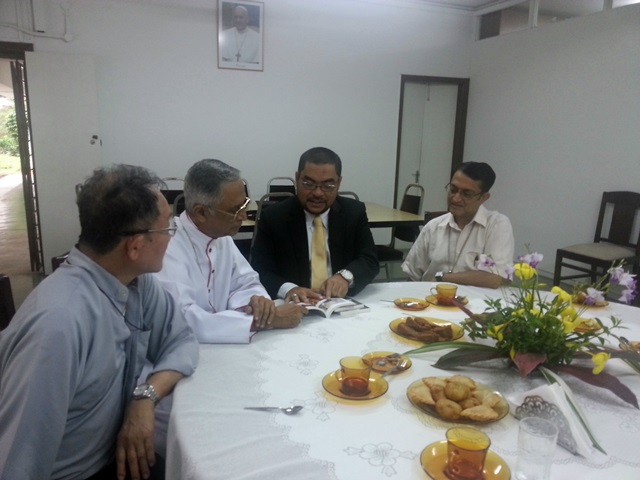 Mujahid said he was honoured to meet the top Catholic leaders in the peninsula as part of his peace initiative among the various faiths in the country.
He also presented a copy of his book Berdialog Dengan Gereja to Archbishop Pakiam and Bishop Paul Tan. Bishop Sebastian had earlier received a copy.
Mujahid has been at the forefront of building bridges ever since the Kalimah Allah controversy broke out.
The KL Archbishop offered a warm welcome and expressed hope that efforts to improve interfaith relations would continue, adding that such initiatives should be supported, said Mujahid, who has been appointed to the National Unity Consultative Council (NUCC).
"I conveyed Pas' hope for the future – of a better Malaysia in accordance with the party's theme for its 59th general assembly: Rahmat Untuk Semua or Blessings to All," added Mujahid.