Remembering those detained without trial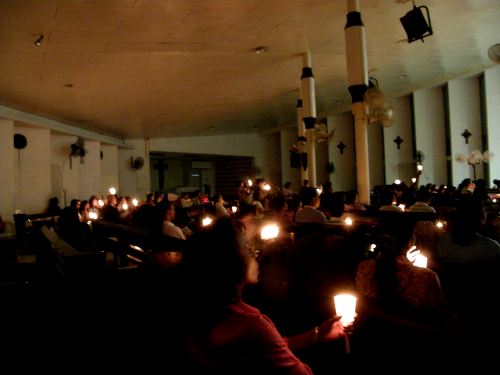 Lighting candles to dispel the darkness of injustice
Some 200 concerned individuals, many of them parishoners of the Church of the Nativity in Butterworth, turned up for a special Mass for justice and peace in our land at 8.00pm today.
They prayed for the release of RPK, the Hindraf Five and all the other ISA detainees and remembered their families. They also prayed earnestly to God for the abolition of the ISA.
The Mass was concelebrated by parish priest Fr Nelson Chitty and his assistant Fr Robert. In his sermon, Nelson preached about how it was unjust to detain people for reasons of expediency and urged those present to remember all those imprisoned without trial.
Hours before the Mass, the priests received a phone call from police, but the service went ahead without incident. Several plainclothes police observed proceedings from outside.

Be not afraid, I go before you always…
At the end of the Mass, the lights of the church were switched off. Those inside lit candles and sang a series of well known hymns such as "Be not afraid", "The world is in need of liberation", "Make me a channel of your peace", "Song of a young prophet" and "Shine, Jesus, shine".
After the Mass was over, many made a bee-line for the desks outside, where ISA badges and T-shirts were sold. Others did not hesitate to put their signatures down on the Abolish ISA petition.
"Be not afraid, I go before you always…"