Tunglang takes us on a gastronomical adventure at his favourite hokkien mee haunt in Penang.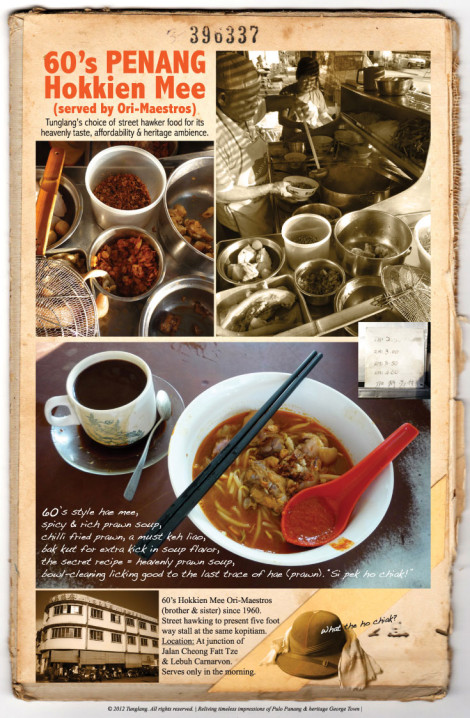 Inner city George Town has barely awakened, the sun barely rising above the maze of heritage terracotta rooftops. With a hunch of a good Saturday morning food binge building up, I decide to crawl my way to this 1960s Penang Hokkien Mee stall.
Served by two Ori-Maestros, a brother and sister team with no outside help (to keep it as original as possible), many Tham Chiak Kuis frequent this long-time stall as early as it starts business at this kopitiam, located at the junction of Lebuh Carnarvon and Jalan Cheong Fatt Tze.
As kiasu as any TCK Penangite, I reach the stall at 7.00am salivating at the first sniff of hae th'ng (prawn soup). Standing at the side of this five-foot-way stall with all the liao on display, I present my order, almost giving in to the temptation of keh liao!
The sight of yellow mee, tau geh, eng chai, chilli fried prawns, yew chang (fried onions) and red chilli oil swirling like a whirlpool above the hae th'ng prompts a flood of reminiscences of the 1960s and 70s. Back then, I was a hokkien mee boy-helper in Madras Lane and Macalister Lane who frequently took curi-bites of spicy hae while at work.
Time to secure a table before more TCKs walk in. The friendly kopitiam towkay, as usual in a jovial mood, pushes his 'international' brand of juice drink, which he claims is good for cooling the body. What an enterprising and global-minded towkay ready for the soon-to-become cosmopolitan Penang.
My eagerly awaited order finally arrives with keh liao and steaming, spicy and rich hae th'ng served in a 'red cockerel' bowl. The first bite of chilli fried prawns starts me on a slow gastronomical experience of the finest hokkien mee in inner city George Town.
The slippery but well cooked mee, though not as salty as the ori-1960s, romances my discerning palate, preparing it for even more of the distinctive 1960s Penang hokkien mee and hae th'ng. I savour the bak kut, with a strong heavenly flavour of bak, in what seems like a timeless experience of this Ori-Maestro Hokkien Mee.
My last million-taste-buds tango ends with a finale – a bowl-cleaning flourish to the last trace of hae. No pai seh. Winding up with a flushed face, sweaty forehead and prawn-flavored lips, I draw my "Good Morning" mini-China towel like a matador ready to wipe away the evidence of delightful Tham Chiak Kui desires.
Now it's time for my kopi-O kau kau. I enjoy sipping it slowly while taking in the heritage ambience of this prewar kopitiam minus Rediffusion's Canto ballads below the Sin Kong (Star) Hotel.
The 1960s Penang Hokkien Mee can be found at the junction of Lebuh Carnarvon/Jalan Cheong Fatt Tze = "Si pek ho chiak!"
Note: Come early as it usually finishes by 10.00am. Also, do bring along a mini towel!
Do you agree with Tunglang's Choice? Or do you know of other heavenlier spots?