The results of the SMS poll over the 8.00pm news on ntv7 yesterday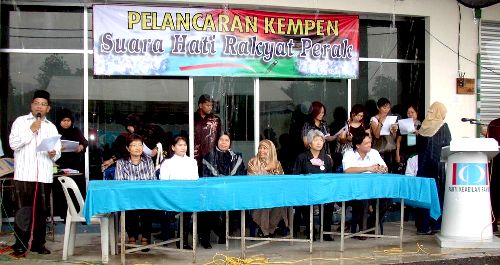 This evening, the women's wing of PKR launched a signature campaign to lobby for the dissolution of the Perak State Assembly. They aim to collect a million signatures within a week – Kinta Kid has the story here.
An SMS poll conducted by ntv7 on its 7 Edition (English news) bulletin at 8.00pm yesterday revealed that an astounding 99 per cent of viewers want fresh elections to resolve the political impasse in Perak.
This clearly gives the lie to those who claim that Malaysians are "weary" of elections. If anything, what Malaysians are probably weary of are all those political stunts to avoid holding fresh elections.
If you doubt the accuracy of the ntv7 poll, consider this:
The ntv7 poll results are identical to the separate poll findings on this blog, which also reveal that 99 per cent (of some 2,500 respondents) want fresh polls in Perak (90 per cent of you want state-wide elections while 9 per cent want by-elections for only those seats where defections occurred).
[poll id="36′]