Say bye-bye to the 1Malaysia free beers. Now we can expect Ubah! or GST.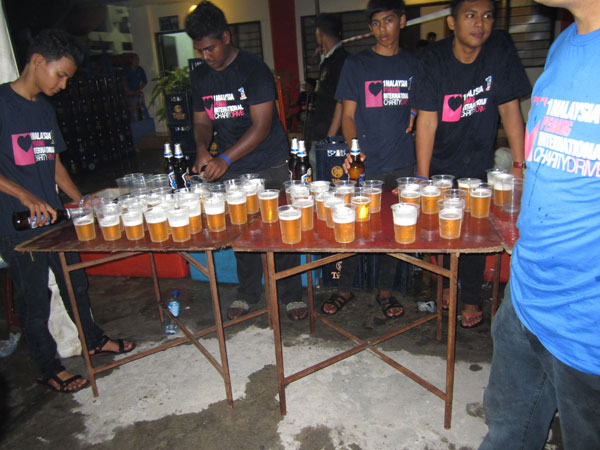 This is the sort of scene at the 1Malaysia free dinners all over Penang.
Earlier, one of the 1Malaysia free dinners had served a Vietnamese beer brand '3 Amigos, but this blog pointed out that it was a San Miguel beer. And you know who is linked to San Miguel, right? That was the last we saw of that beer. Since then it's been stuff like Tiger beer and Carlsberg.
But another journalist said he drank some Cambodian beer at another free dinner – but couldn't remember the name of the beer. The journalist also saw migrant workers happily lugging away more cans of beer home while locals ta pau'ed quite a fair bit of food. There was almost a fight and a scramble for ice-cream at a free dinner near Komtar!
I thought we had enough clowns in Malaysian politics, but here's one roaming around at a 1Malaysia free dinner recently.