2045: A Bersih procession to mark the anniversary of the Bersih 2.0 rally on 9 July 2011 is moving from Dataran Merdeka passing through Petaling Street and Jalan Hang Jebat towards Stadium Merdeka.
Walking along Jalan Hang Jebat:
https://twitter.com/bersih2/status/222310758615236608/photo/1
The procession finally reaches Stadium Merdeka just before 9.00pm:
https://twitter.com/bersih2/status/222312833860378625/photo/1
The crowd paused for a moment of silence in memory of Baharuddin Ahmad, who passed away during the procession last year.
Protest organisers, Kill The Bill declares: "We want the Peaceful Assembly Act to be abolished and for the Bersih 8 demands to be realised."
Then Chin Huat addresses the vigil: "Walaupun merdeka, rakyat Malaysia belum bebas lagi … Pada 9 Julai 2011, rakyat Malaysia tidak kira kaum dan latar belakang bersatu … Kita tdk benci atau menyelebahi mana-mana parti politik, sebaliknya kita inginkan kuasa rakyat memilih pemimpin secara adil."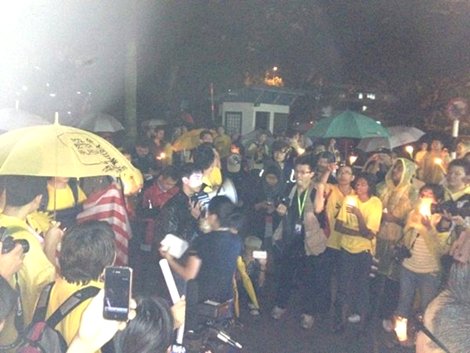 The crowd finally disperse after the singing of the national anthem.
Supporters are also gathering peacefully today in Sabah, Johor, Malacca and Perak, adds Bersih in a tweet.
Earlier, supporters had gathered at Dataran Merdeka despite the rain.
https://twitter.com/bersih2/status/222295889497174016/photo/1
Among the participants are Bersih 2.0 steering committee members Wong Chin Huat and Maria Chin Abdullah.
Remember the unsung heroes of 9 July 2011: