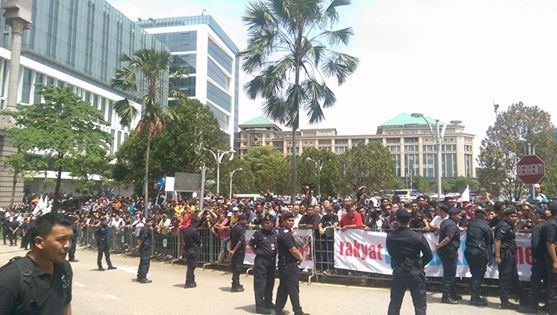 A large crowd gathered outside the Palace of Justice in Putrajaya.
The social reform group Aliran has released a scathing immediate reaction to the verdict in the Anwar trial and the upholding of a five-year jail term.
Check it out here. And check out Anwar's full response here.
I am shocked at the verdict, and I am not the only one. I have been receiving a steady stream of outrage from other concerned Malaysians via text, email, Whatapp, social media and blog comments.
This decision is not going to help improve the administration's image – already tarnished by rampant corruption and cronyism – in the eyes of Malaysians and the international community. (It is already the top story in the global media.)
Instead, the outcome will transform Anwar once again into an icon for the reform movement.
SODOMY2 – I will not be silent and will fight for freedom and justice and will never surrender. – Anwar Ibrahim at sentencing hearing.

— Insider (@insider_latest) February 10, 2015
SODOMY2 – I will again for the third time walk into prison but with my head held high. – Anwar Ibrahim at sentencing hearing.

— Insider (@insider_latest) February 10, 2015
If any group harbours hope that the incarceration of Anwar Ibrahim will put a lid on the quest for reforms in Malaysia, they would be sadly mistaken. The movement is not just about Anwar. It is larger than that. And it is time for other Malaysians to be empowered in the journey towards a more just Malaysia.
Anwar's jailing will only redouble the commitment of many Malaysians to work for substantive and real change. Many other Malaysians will step forward and be counted.
Reformasi! Reformasi! Reformasi!