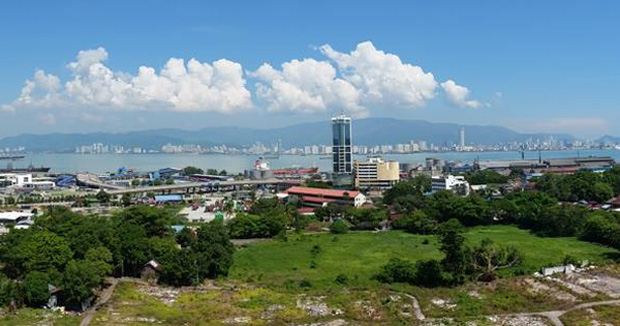 Much ado about "city" status being conferred on Seberang Perai (mainland Penang). But then ahead of the big day on 16 September, the council sent out notices of its intention to hike assessment rates (cukai pintu) – though residents could still appeal.
Some background info first:
Seberang Perai or Province Wellesley was originally administered from Penang Island in the 19th Century.
In 1913, mainland Penang was divided into three rural district boards (northern, central and southern) and the Butterworth Town Board.
These three local boards were upgraded to district councils in 1952 and the next year, the Bukit Mertajam Town Council was set up as well.
But by 1961, the Butterworth and Bukit Mertajam town councils were absorbed into the district councils.
In 1974, the three district councils were merged under the Seberang Perai Local Government Management Board. And with the passing of the Local Government Act in 1976, the board was renamed the Seberang Perai Municipal Council. And now in 2019, it has been turned into a city council.
I don't think the merger of all these district and town councils in the mid-1970s was a great idea. With the merger, the single Seberang Perai council now covers 751 sq km, making it the largest area under a single council in Malaysia.
What not many realise is that this means the Seberang Perai City Council has to cover an area larger than the size of Singapore (725 sq km)!
Even though Singapore is smaller, it has five "community development councils" as well as town councils, making them more responsive to local issues. (That said, Singapore's population is almost seven times larger than Seberang Perai's.)
The news that mainland Penang was to be conferred "city status" was dampened by notices of an impending assessment rate hike sent out to some homes. For instance, one house on the mainland has been given notice of a 22% hike in rates.
Is there a need for such hefty hikes, which will earn the council an extra RM40m in revenue – especially at this time of economic uncertainty and gloom?
That would depend on answers to two main questions:
a) Is the council in dire straits and running a deficit?
b) Is the added income going to be well spent?
Looking at a), the Seberang Council actually managed to post a surplus of RM6m in 2018, after incurring deficits in the two previous years. It managed this after raising its revenue by RM30m in 2018.
But for 2019, it is expecting a deficit of RM25m, based on its budget, which is projecting a RM10m increase in budgeted expenditure compared to the 2018 actual figure.
Which brings us to b) – is the added RM40m income from the assessment rate hikes going to be well spent? Is it going to be spent on projects like sprucing up low-cost and low-medium cost flats, many of which look shabby and badly in need of a coat of paint and more thorough maintenance. Few would object to that.
So let's take look at a couple of the budgeted expenditure allocations for 2019:
CCTV – RM2.5m: Why do we need to keep spending on CCTVs? Is this a priority?
"Smart City" computer stuff ("perkakasan dan perisian komputer sistem maklumat berpusat" or centralised information system computer fittings or something like that) – RM4.1m: What on earth is this? How essential is this?
Now let us look at a few of the more controversial upcoming projects for 2020-2022 and my comments:
Fitting and maintaining CCTV cameras – RM2.5m: More CCTV cameras? Are we going to end up a Big Brother surveillance state? Has there been a proper study on the effectiveness of these cameras in reducing crime? Do you feel any safer since the installation of these CCTVs?
"Cyber Counter dan Call Centre" – RM5m: What is this? Do we really need such a counter and call centre?
A convention centre in Bandar Perda RM30m: Why is the local council building a convention centre, especially when I am told there are already two other convention centres on the mainland: one in Seberang Jaya and another in Batu Kawan?
Few would object if assessment rate hikes result in tangible improvements felt by the majority, especially the bottom 40%.
But a convention centre, a "call centre", vague IT spending and more CCTVs? From what I hear, there have been rumblings of discontent about some of these budgeted expenses.
I believe Seberang Perai residents would be better served if the council or some of its services were decentralised like before so that it becomes more responsive to local needs like in Singapore. From what I read, Singapore decentralised its section dealing with complaints about HDB flats from a centralised HDB centre to its local councils.
Raising mainland Penang to "city" status allows the government to show that its assessment rates are still lower than city councils like Kota Kinabalu and Shah Alam – but then those are state capitals whereas mainland Penang is not.
In fact, all the action is focused on Penang Island, including the extravagant transport plan. Mainland Penang has been largely left out under the first phase of the contractor/developer-inspired "Penang Transport Master Plan" – a backward plan if ever there was one. For the sake of argument, why is mainland Penang being marginalised in this mega transport plan?
The other crucial question is what is the point of having city councils when mayors and councillors remain unelected and unaccountable to this day. So unaccountable are they that few ordinary folks know the mayor's name, let alone the identity of their city councillors.