MAS is in crisis after it posted a loss of RM2.5bn for 2011 while its short-term liquidity faces serious challenges with net current assets plunging deeper into the red to the tune of RM4.4bn.
The real (unaudited) loss for 2011 is RM1.4bn but, as is often the case with some companies that post an unexpected loss, the management puts in all sorts of provisions. In MAS' case, the provisions totalled RM1.1bn, giving a total loss of RM2.5bn.
This sort of large provisioning to add on to the year's losses often ensures that the following year's result will show a significant (artificial?) "improvement" or "turnaround". If the loss is already bad this year, then might as well put in all these sundry provisions, so that the loss becomes larger and next year's result looks much rosier than it really is – so goes the reasoning.
The MAS Balance Sheet is equally worrying. Cash and bank balances fell from RM2.1bn to just over RM1.0bn.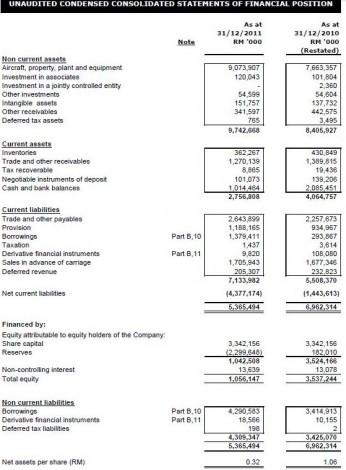 And look at the net current asset position, which indicates short-term liquidity. Deep in the red.
But on 21 June 2011, MAS exercised its option to buy 10 more Next-Generation 737-800 aircraft, with the total order valued at US$800m at current list prices.
It is time to think seriously about the viability of the airlines after years of 'bleeding' and questionable management. After all, where does it say we must have a national airlines other than for reasons of 'national pride'? But what national pride are we talking about if we are continually posting huge losses – money down the tube that could have been invested in, say, quality public transport across the country.
We might as well cut losses in the face of rising fuel prices, choice routes shared with/awarded to privately owned budget carriers, depleting fuel reserves and climate change. (Even Singapore Airlines reported a fifth straight decline in quarterly profits due to rising fuel costs.)