Thailand's most senior forensic pathologist, the renowned Dr Pornthip Rojanasunand, dropped a bombshell at the Teoh Beng Hock inquest today.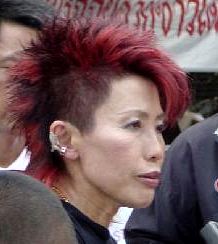 This is the latest via Twitter from Malaysian Insider:
Dr Pornthip steps out of witness box.

Dr Pornthip says, "I never want to criticise the police & doctors."

Dr Pornthip requests Azmil to make statement to media, stresses she is here to offer opinion only.

Magistrate Azmil Munthapa Abas, acting as coroner, thanks Dr Pornthip for helping inquest.

Dr Pornthip says will take longer time due to decomposition of body but that won't affect her final analysis.

Dr Pornthip tells court she is prepared to do 2nd autopsy even if have to exhume Teoh's body.

Dr Pornthip disagrees with Tan's suggestion.

Tan suggests to Dr Pornthip that she doesn't have enough basis to conclude Teoh's death is 80pct homicide & 20pct suicide.

Tan reads out Dr Prashant's nine reasons for concluding Teoh committed suicide, one by one.

Dr Pornthip says she can't answer Tan's questions because the investigation is incomplete.

Dr Pornthip says if bone fragments were found in the anal area, it'd be compatible with injury caused there by fall from a height.

Dr Pornthip replies yes to Tan but adds its uncommon.

Tan reads Dr Prashant's analysis on anal injury and asks Dr Pornthip if penetration can be caused by bone fracture after a high fall.

Dr Pornthip says strangulation signs may not always leave marks on the skin but can be detected under the skin.

Tan shows Teoh's photos to Dr Pornthip & asks if she spots signs of strangulations she had described earlier. She says no.

Dr Pornthip says she didn't get copies of all documents from the Selangor government which engaged her.

Replying to Tan Hock Chuan, Dr Pornthip wished she had a chance to talk to the two pathologists who did Teoh autopsy on the results.

Dr Pornthip returns to witness box for cross-examination after court resumes after lunch.

Court allows Dr Pornthip to examine Teoh's shoes to confirm her hypothesis that he was dragged before falling to death.

Coroner's court breaks for lunch and will resume at 2pm.

DPP Kevin Morais, acting for the MACC, asks Dr Pornthip to clarify definition of strangulation.

Dr Pornthip says Teoh's death is 80pct homicide and 20pct suicide.

Dr Pornthip confirms that Teoh was alive when he hit the ground but may have been unconscious even before falling.

Dr Pornthip says skull fracture not typical of injury from fall but more compatible from blunt force applied directly to the skull.

Dr Pornthip notes round marks on Teoh's neck could mean 'manual strangulation' with fingers.

Dr Pornthip says injury to Teoh's anus caused by penetration with object before fall, based on pictures taken from death site.
Dr Pornthip gives a graphic power point display based on a post-mortem pictures to show & explain Teoh's injuries.
Dr Pornthip tells court not all injuries on Teoh's body consistent with fall from a height.
Dr Pornthip explains her views are based on Teoh's autopsy report.
Questioned by Malik, Dr Pornthip says Teoh died from a fall about 6am to 8am on July 16, 2009.
Dr Pornthip tells court she has conducted more than 10,000 autopsies, of which about 100 dealt with fatal falls from a high place.
Court resumes with Dr Pornthip taking oath at witness box.
Teoh Beng Hock's parents, elder brother & younger sister in court to hear Dr Pornthip's testimony.
Court stands down until 10.15am to set up equipment for Dr Pornthip's evidence, expected to last an hour.
Selangor lawyer Malik Imtiaz Sarwar introduces Dr Pornthip as expert witness for the inquest.
AG's lawyer Tan Hock Chuan introduces UKM forensic chief Prof Shahrom Abd Wahid to sit in for back-up explanation.
Court sets up projector system in front of witness box for evidence from Dr Pornthip.
The Selangor government has engaged Dr Pornthip to testify as expert witness.
Famous Thai pathologist Dr Pornthip Rojanasunand to testify today. She worked on Asian Tsunami victims & David Carradine's death.
Coroner's court resumes hearing on Teoh Beng Hock's death today.