Another tourist draw for Penang?: This flooded hill-slope could be one of the Wonders of the World
Floods hit the Chee Seng area near Tanjung Bunga in Penang during heavy rain over the weeked. Incredibly, even the hill-slope was flooded.
Observed a couple of residents in the area:
On 6 September 2008, at about 5.45pm during normal heavy rain (this is the rainy season), massive amounts of rain water flowed down from the hills, overflowing all drains and onto Jalan Chan Siew Teong itself. This is due to the hills being recently cut by two housing developers. As a result, the entire road became a river of about 20 feet wide and about 6 to 8 inches deep with muddy water running the entire stretch of the road.
Residents living there for the last 39 years were shocked. During that period, they had never encountered such freak flooding in the housing area as the entire road is on a steep slope bordering the hills of Chee Seng Gardens.
This is utterly ridiculous. A police report has been lodged against the developer responsible and a complaint has been lodged with the MPPP, but still there is no action. Most of the residents there are elderly people who cannot take action by themselves.
The residents want the authorities to force the developer to do proper remedial work on the Bolton and Beverly Heights projects and to act more responsibly.
In the first place, how were such projects approved on treacherous hill-slopes? Perhaps the previous BN administration can explain.
Now the residents along Jalan Chan Siew Teong, Chee Seng Gargens want the authorities to pull the developers into line so that they act responsibly while developing the area. Now do you see the danger of having an administration that is too "business friendly"?
The residents are not against development:
but NOT at the expense of causing trouble, nuisance and monetary loss to residents in the areas. That is all we are asking for. The time for irresponsible developer activities under the old administration – i.e. BN must end. We hope the new DAP administration can force the MPPP to serve ratepayers better by forcing the developers into responsible development.
More pictures inside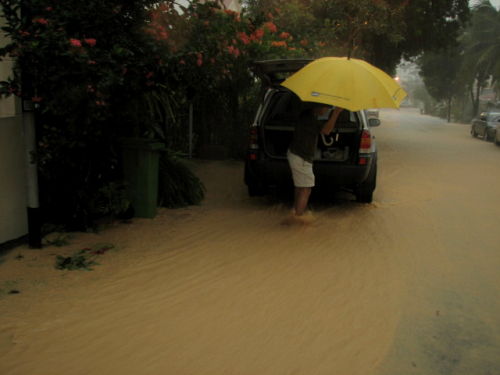 An act of God?…
…Not really… Here's one of the suspects
Observed a couple of residents in a police report:
The developers responsible for the hill cutting are GLM Property Development Sdn Bhd of Surin Bolton Apartments and Taman Ratu Developers Sdn Bhd of Beverly Hills. Since the start of the hill cutting by Bolton Developers some three weeks ago and Taman Ratu earlier on, they have not made any attempt to cover the cut hill sides with plastic sheeting and this is causing the severe water run off with massive amounts of silt, debris and stones. The drains along all the roads are thus clogged with debris and sand within minutes every time it rains heavily.
Irresponsible development on treacherous hill-slopes
Fancy a cruise in your kitchen? The suffering and hardship of ordinary people is too much to bear