Among the victims of the Bukit Kukus landslide tragedy on 19 October was a cat, which succumbed a couple of days after being pulled out of from mounds of fallen earth and rocks. This morning, a group of environmentally conscious Penangites gathered across the road from Penang State Assembly and used the dead cat as a metaphor to mourn the demise of competence, accountability and transparency (CAT) in the state.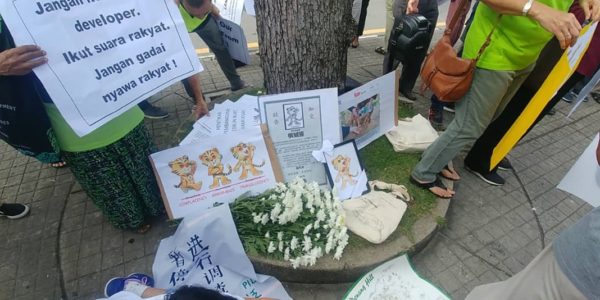 The protesters said the demise of CAT has allowed all sorts of unsustainable 'development' plans to be approved in the state. They expressed alarm at the latest manifestation of the state's obsession with such plans: the much criticised proposal for two hotels on the summit of Penang Hill.
The state government is fully aware of the problems in building here: forest reserves, restrictions under the Penang Hill special area plan, plans for a Unesco biosphere listing, about 200 landslides in the area in recent times. So why ask for trouble and go ahead? Who are the those behind this money-making scheme?
Notice all those landslides in the area of the two proposed hotels:
Flash back to an earlier landslide in Paya Terubong in 1998:
Look how fast they forget what they said 20 years ago in the aftermath of that landslide:
And pay close attention to what the present Penang chief minister said in 1998, when in opposition:
Thanks to those who dug out these newspaper cuttings to refresh our short memories. But we never learn from the lessons of the past, do we?
The protesters today also slammed plans for an additional 7,700 acres of new land reclamation, which has been included in the revised Penang Structure Plan 2030 – on top of the Gurney Drive/Tanjong Tokong reclamation. The scale of this land reclamation puts the massive Forest City project in Johor in the shade. But where are the buyers of all these high-end homes coming from?
These massive land reclamation plans are based on an inflated Penang population estimate of over 2.4 million for 2030, which 'development'-obsessed Penang is projecting in the structure plan. This is well above the projection by the Department of Statistics, the real experts in population projections, which forecasts 1.9 million for 2030, only marginally up from the present 1.7 million.
Anything for more high-end property development.
One protester said the Penang government has apparently not heard of climate change (or if it has, is content to pay lip service to it, if at all). Instead it is pursuing a business-as-usual model, never mind the consequences ie floods, landslides, depleting marine fish resources.