Covid or no Covid-19, glut or no glut, the reclamation frenzy continues in reclamation-crazy Penang. This time, they are eyeing a prime waterfront stretch between the first and second Penang bridges – all 150 acres of proposed waterfront in four stretches along the coast.
This will draw Penang Island even closer to Pulau Jerejak. Why not reclaim even more land and join Pulau Jerejak to Penang Island, then they don't have to build that four-lane bridge from Penang Island to Pulau Jerejak? <sarcasm>
This time they claim they need more industrial land in the Bayan Lepas area. But hey, what about Island A in the proposed three-island 4,500-acre "Penang Southern Reclamation"? Wasn't that supposed to provide industrial land and space for "airport expansion" or whatever. Isn't that supposed to be taking off soon? Or have they given up on that for now?
And what about moving some industry to the mainland so people won't have to commute across the channel so much?
Maybe the real reason for the "linear waterfront" project is this bit: medical, commercial, restaurants and hotels (possibly along the prime waterfront?). If this is true, it would complete the missing link in the corporate/developers' takeover of the prime eastern and southern coastlines of Penang Island. Once again, it will be via the controversial "request for proposals" method.
The 8km promenade along the linear waterfront touted to the public reminds me of the Gurney Wharf "recreational area" and tunnel as a front to win over public support for the 130-acre Gurney Drive reclamation project. Today, the tunnel is nowhere in sight (errr, the study is 98% complete or is it 99% by now?), and many remain unaware of the 50 acres or more of dense residential and commercial property development planned for the reclaimed land near Gurney Plaza.
Is the linear waterfront planned for in the Penang Structure Plan? Last I remember was this map from the draft Penang Structure Plan… Where is the linear waterfront reclamation in the map? Is there a newer map? If so, show it to the people of Penang.
Here's another map from the press showing proposed reclaimed areas: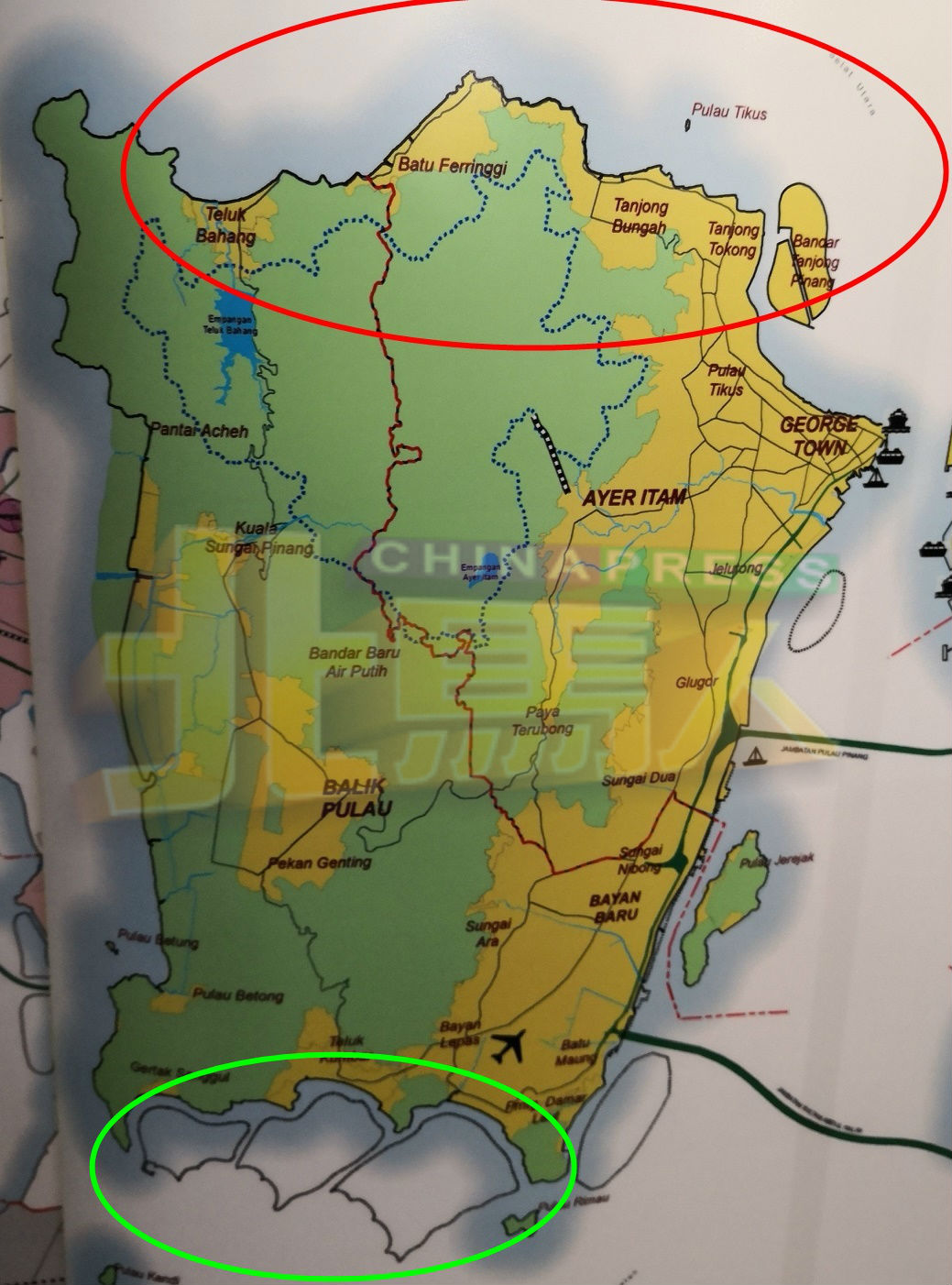 This latest reclamation plan is such bad timing considering that so many other reclamation projects are in the pipeline, either struggling or not even taking off. Is this reclamation really for industrial land – or is the real prize the commercial property development it offers?
Do we really need more reclamation for industrial and commercial space at this time, when the world is in recession, if not a depression? Factories are retrenching workers by the day, even shutting down. Several hotels – including a resort on Pulau Jerejak (I told you that place was jinxed!) – have closed down, either permanently or temporarily. So many shops and mall retail outlets are vacant or falling idle.
Online businesses are flourishing. Many offices, even multinational banks, and individuals are finding out folks can work just as well from home. Shuttered down factories can be reused for other purposes. So is there a pressing need for land in the next 10 years, especially when the total fertility rate has fallen below the population replacement rate of 2.1 children per woman.
But the Penang government, obsessed with land reclamation and property development, can only think of tambak, tambak, tambak (apart from cable cars, that is!). What a failure in imagination.
Is this the alternative model of development that it can offer the country ahead of the next general election? How is Pakatan Harapan going to dislodge Perikatan Nasional with this kind of development model? I'm sorry to say, it is not a model that inspires confidence, when ordinary people's needs are more pressing.
https://www.designingfaces.co.uk/order-prednisone/
What we need is a real people-centred model of development that puts the needs of ordinary people on the ground first – sustainable food security (including marine fisheries), genuinely affordable homes, renewable energy, and excellent public transport, public healthcare and public education.