The online signature petition against SRS Consortium's RM46bn mega transport plan has streaked past the 15,000 mark, leaving the petition in support of the plan trailing in the dust with just over 12,200 signatures. Syabas Penangites!
That's an increase of about a thousand signatures against the plan in a single day.
The renewed momentum comes on the heels of the state government's public forum on the plan yesterday, which witnessed a flash protest inside Dewan Sri Pinang when more questions were raised than could be satisfactorily answered.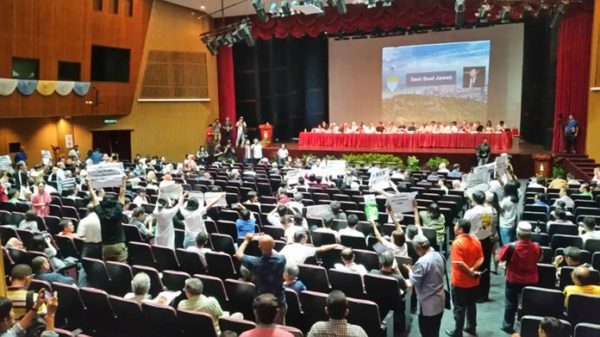 Based on the two rival petitions, that's about 55% against and 45% in support – close to my 60:40 estimate of the crowd reaction at the forum yesterday. What's more, as the green movement in Penang grows, the opposition against the SRS plan will swell even more in the coming days and weeks as more and more Penangites wake up to discover what the Penang Developers Master Plan (PDMP) PTMP is all about.
Most Penangites are simply too smart to be taken for a long ride, despite the best efforts of public relations teams and biased pro-developer newspapers.
Remember, Penangites rallied behind a similar signature petition to save Penang Hill from a greedy developer back around 1990. In those days, it was a simple postcard campaign spearheaded by NGOs that foiled the developer's plan and saved the hill. In the general election that year, voters even dumped the then long-serving Penang Chief Minister, Lim Chong Eu, in a stunning upset, after which he promptly retired.
You would have thought that Penang politicians would have learned a lesson or two from that debacle. There is still time for them to do the right thing and scrap the SRS plan in favour of more sustainable and cost-effective improvements to public transport. Say NO to greed at the expense of the ecology.
Just look at the havoc in Klang today.
Climate change is upon us and we'd better do all we can to protect the ecological balance in Penang and the rest of Malaysia instead of undermining it.