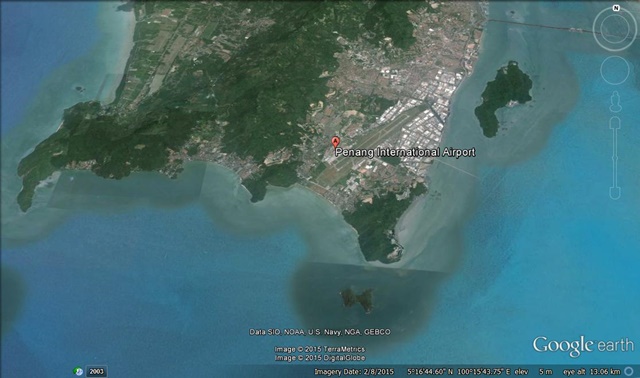 The PKR reps are concerned about new not-yet-approved land reclamation projects not the previous ones, says Kebun Bunga rep Cheah Kah Peng, in a letter to the people of Penang.
Questioning mega projects and voting based on conscience: Stop deviating from real issues and allow us to defend the rights of ordinary Penangites
1. Massive privatised land reclamation projects increased public concerns
First of all, let me emphasise that I am for development and improving our transportation plan for Penang; of course there must be transparent information and public consultation process according to the law.
For the past few years, the people of Penang have been showing signs of concerns about hill land development and seafront land reclamations, the land swaps, and the privatisation deals which have been arranged.
Recent news of a few thousand acres of reclamation both at the North East and the South West of Penang Island had again raised eyebrows of the environmentalists, NGOs and worried coastal fishermen. Some economists and researchers had also questioned whether the projected growth of Penang can justify such massive reclamation and whether the party benefiting from such massive reclamation and land swaps will be the people of Penang. As elected representatives of the people of Penang, we take heed of the critics, and my State Assembly colleagues and I, are of course, looking very close at the issues.
2. State Assembly requested further info from Public Accounts Committee's report on reclamation
A simplified version of PAC Public Accounts Committee's《Major Road and Tunnel Project Report》was given to us at a very late stage during the November 2015 State Assembly sitting. The report was brief, and we were left with some unanswered questions, though the matter was discussed partially in the State Assembly at time. The Speaker of the Assembly Dato Law Choo Kiang, had subsequently ordered a new and more complete Report to be prepared again for the coming State Assembly and its members.
3. Legislators are not back stabbers, neither are we rubber stamps
We are always reminded that any land in the hands of the government belongs to the people. The government is trustee for the people and therefore must justify all disposal of public land, be it existing or through reclamation. With public information and from the PAC Report, we the State Assembly persons requested more clarification about the pros and cons, costs and details of the privatised mega reclamation and land swap projects.
For a reclamation case situated at the North East side of Penang Island, we were informed by the PAC that the tunnel's "feasibility report" and the required "environmental impact report" have not been completed, and that the government has agreed to pay a large payment of RM138,971,572.61 for the feasibility report and design, and that the sum was approved by relevant government departments years ago. The whole feasibility report is worth RM305,003,880.00 and mainly to be paid with land swap which involved exchanges of two lots at Tanjung Pinang, Tanjung Tokong.
Questions had been raised by few State Assembly persons on the land swap and reclamation, and we were unsure of how the feasibility test justifies such a large payment amount and in exchange for the two lots of reclaimed land.
Thus, with the public interest issues raised by the public and the PAC Report on reclamation, the six concerned State Assembly persons (one from the DAP and five from Keadilan) had chosen to vote for (1 DAP) and abstain (five Keadilan) when voting on the said motion.
4. The issues are on "future" "new" reclamation and "public hearings"
The misleading "Reviewing old reclamation will bankrupt the state" statement is a fallacy.
I believe the statement which said: "Review of old reclamation will bankrupt the state" (as opposed to the call for "public interest consultation on new reclamation") is misleading and incorrect.
The crux of the matter and the issue here is on "review" of "not yet approved" "new" reclamation plans, and to advocate public participation and consultation. The so called "Review of old reclamation plan will bankrupt the state" can be seen as an incorrect statement that confuses Penangites.
Logically speaking, what is "a new, future, not yet approved project" cannot be "an old reclamation project" and therefore will never have the chance to become a rescinded agreement which would land the current government into trouble – being sued and bankrupted – like what some would say.
5. Continuously defaming and character assasination against us will not stop us from asking questions
In short, the six State Assembly persons were just voting for "Review and public consultation on new reclamation projects". No sane person would be able to understand why a public interest decision like this had brought about such tantrums, not to mention continuous vicious abuse and attack on the six assembly persons over the past three months.
The State Assembly persons were elected by the people of Penang to help scrutinise all government administration be it federal, state or council, which we were doing, and will continue to do so.
I just want to ask these questions:
Is it wrong to defend the interests of Penang?
Is it wrong to ask for public hearings on reclamation projects involving our seafront areas?
Is it wrong to ask the government and developers to clarify and account for the seafront land which they are getting for reclamation projects?
Why do some politicians need to have such a dramatic reaction when we the people's representatives asked questions on land swaps in the State Assembly? Why?
Isn't the State Assembly the best place to ask questions on state affairs?
Or is there anything we the peoples representatives should not know? Then tell us, if the state does not what us to know anything.
6. The abstention prompted series of public hearings
The reality is, subsequent to the abstention, the government had started a series of public consultations and a public hearing process to engage Penangites into understanding the land swap and seafront developments. It is a good start, and we are eagerly awaiting more information on the open tender and award of some of these mega projects.
7. People's representatives should not be bullied into submission
Penang Hill Corporation has nothing to do with seafront reclamation; the chairman nevertheless chose to force me out of the PHC Board. I also do not believe that forcing me out of the PHC Board has anything to do with my views on Penang Hill developments.
As State Assemblyman of Kebun Bunga, Penang Hill is part of my constituency. It is a known fact that the management and development of Penang Hill falls under the administration of Penang Hill Corporation. Depriving any Kebun Bunga State Assemblyman or woman from involvement in the Board of Penang Hill Corporation would be effectively depriving the Kebun Bunga constituents their constitutional rights to benefits derived from a democratic electoral system.
I believe it is a big mistake the Penang Hill Corporation has done, and may even be illegal, corporately speaking; so I would advise them to rectify, apologise and do the neccesary. I will inform my constituents of this grave injustice and continue to assist the people of Penang Hill despite the oppression.
8. United we stand
The force extraction of me from PHC, which is part of my constituency, is ultra vires and a hasty act. I really do not want to be in any part of this manoeuvre, but unfortunately we are inevitably stuck with it.
I wish to go on serving my constituency, and will continue to act as a State Assemblyman and Penangite to defend the interests of Penang. And I take this opportunity to call out for all the help we can get to better Penang, to build Malaysia, and to better our Pakatan Harapan's administration.
Thank you for all the support, People of Penang.