The three have been released after Magistrate Norashikin Sahat rejected a police application to remand them. It is now time for Najib to fulfil his pledge to repeal the archaic Sedition Act.
Well done to the magistrate and to all those who expressed solidarity with the detainees despite 18 arrests two nights ago. "No individual will ever be detained simply due to political ideology," Najib had pledged two years ago. Time to fulfil your promise. Janji ditepati, remember?
Releasing now pic.twitter.com/zjx6LCtoUy

— Suara Rakyat M'sia (@SUARAMtweets) May 24, 2013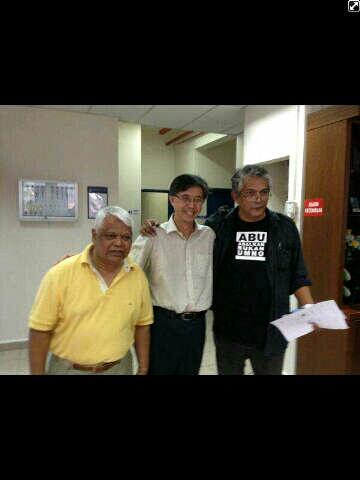 This was a July 2012 report from Malaysian Insider:
Najib: Sedition Act to be repealed
UPDATED @ 07:00:40 12-07-2012
Jul 11, 2012

Tonight's announcement comes as part of the PM's slew of legislative reforms aimed at increasing civil liberties. — file picKUALA LUMPUR, July 11 — Datuk Seri Najib Razak announced the repeal of the Sedition Act 1948 tonight, in his latest move to regain the momentum for reforms ahead of elections that must be held soon.

He said the 64-year-old law would be replaced with a National Harmony Act.

"With this new Act, we would be better equipped to manage our national fault lines.

"It will also help to strengthen national cohesion by protecting national unity and nurturing religious harmony," he was quoted as saying by The Star during the Attorney-General Department's dinner here.

Tonight's announcement comes as part of the prime minister's slew of legislative reforms to increase civil liberties initiated during the eve of Malaysia Day last year.

Among others, the Najib administration has repealed the Internal Security Act 1960 (ISA), lifted three Emergency Declarations and enacted the Peaceful Assembly Act to regulate public gatherings.

The government has also scrapped the need for annual printing licences in the Printing Presses and Publications Act 1984 and lifted the ban on student participation in politics through amendments to the University and University Colleges Act 1971.

Institute for Democracy and Economic Affairs (IDEAS) chief executive Wan Saiful Wan Jan welcomed tonight's announcement but said it would be preferable that the Act be scrapped entirely and not replaced with another piece of legislation.

"But since the government will proceed with the replacement law, we congratulate the prime minister for staying true to his promise to put people first through this consultation.

"We urge the public and members of civil society to engage in this consultation process," he said in a statement here.

Opposition lawmakers and civil society groups have long accused the government of using the British-enacted Sedition Act arbitrarily to limit dissent.

Speaking to The Malaysian Insider recently, Bar Council constitutional law committee chief lawyer Syahredzan Johan noted a trend for the authorities to cite the Sedition Act as an early measure in their investigations and prosecution because "it is the "easiest offence to satisfy".

"They don't have to prove that there is sedition, only to show there is a tendency," Syahredzan said, pointing to Section 3(1) of the Sedition Act, which lists six sub-clauses defining a seditious tendency.

It includes "to bring into hatred or contempt or to excite disaffection against any Ruler or against any Government".

Syahredzan said there was tendency for the government to go on the offensive and use the laws as weapons when it was being hit by criticism. He stressed that it occurs on both sides of the political divide.

Recent cases include DAP chairman Karpal Singh, who was prosecuted on a charge of "seditious tendency" for saying the Perak Sultan could be questioned in a court of law.

Police are also investigating former Perak Mentri Besar Datuk Seri Mohammad Nizar Jamaluddin for his May 28 Twitter remarks on the Johor Sultan's RM520,000 purchase of the WWW1 car licence plate.

When announcing a raft of reforms last year, Najib admitted that the government's move to allow greater civil freedom was "risky, but we are doing this for our survival."

"No individual will ever be detained simply due to political ideology," he had said in his Malaysia Day message.

The 52-year-old ISA was repealed in April this year and replaced with the Security Offences (Special Measures) Act, which saw the government's right to detain a person without trial removed.