They came from all over to send their Raya greetings (Photos by Teh/Lim)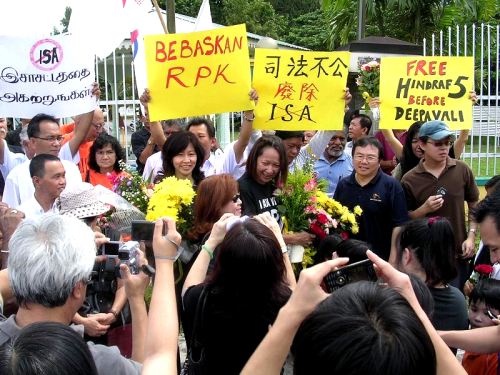 Marina received lots of flowers and cards for RPK
Eye-witness Peng shares his experience in Kamunting today:
We arrived around 11.06am. Singing was underway when I got there. I was excited to see many people who were there to show support. People were mingling around with intermitten shouts of "Free RPK, Free Hindraf Five" and "Mansuhkan ISA". There was no heavy presence of police. Marina was there. It was good to see her smile amidst the challenges she's facing. People, she needs all the support we can give. …

I am glad that strangers could get together for a united cause. Today, I put a face to names that I know through blog comments. … It's great to have met you all. POWER TO THE PEOPLE!
Justin Choo adds:
Of course, we couldn't even get near the main gate. But Marina was there and we "gave" her our unreserved support, flowers, cards and two songs as reported. I took a cautious peek into the inside compound and saw a big sign 'SELAMAT DATANG'. How come we couldn't go in when it's Selamat Datang? I think the sign is meant for RPK and his comrades inside.
Dalbinder Singh Gill reports:
It was a great show of support Anil, i was there, baru balik rumah actually, kinda tired.. lol .. this is the difference, tired … being under the sun for the rakyat, not like Pak Lah who yawns in an air conditioned convention, lol .. it was great … wonderful support. Police were quiet, I spotted FRU with batons but they were like 200 metres away from the crowd. It was great; Marina Lee was there, managed to pass my bouquet of flowers to her and managed to see her LIVE actually … rather than pics in media… We sang songs; anti-ISA shirts were selling like hot cakes. Anyway, the camp looks like a rat-hole; poor detainees, they don't deserve such a life.