Running towards freedom from the ISA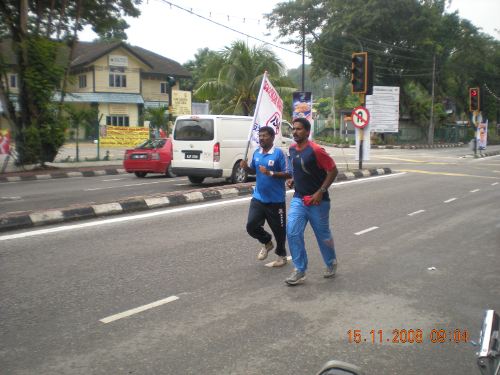 Reaching Tengku Kelana Pictures courtesy of a blog-reader
These are images of the ongoing two-day 350km Freedom Run from Klang to Kamunting, which began yesterday and ends this evening.
Meanwhile, Paula Khoo, blogger and emcee for last night's Abolish ISA vigil in Penang, was released at 1.10am from the Patani Road police station. She will have to report back to police on 28 Nov to find out if she is going to be charged. Blogger Lucia Lai has the update on Paula's release here.
Read Paula's account below of her harrowing experience in police custody:
Sunday, November 16, 2008

A Harrowing Experience Indeed

Tonight, I had a brief taste of what it is like to be questioned, to wonder if I would ever see my family again, to wonder if I would lose all that I had built in my life.

Not a very nice taste.

And I wondered what sort of life I would have in the future and if it would all change because of tonight.

I am still wondering…

I am still in a state of shock by what happened tonight, the long hours at the police station and the fear of the unknown.

The fear is still there. Do not judge me for that admission, please. I am only human and it is no joke to be ALONE, to be the one and only 'selected' ONE, to know that I face a barrage of questions by myself and that whatever I said would have a bearing on my future and perhaps even that of others. Please empathize with me. I do no pretend to be a heroine because I am not. A plain simple woman with a passion for what I believe in, that's who I am. It is easy for people to say have no fear but when in such a situation, I wonder and worry for my little boy and my family.

What does November 28th hold in store for me?

Will it change my life forever? Full post here.