This was the first rendition of Negaraku at Amcorp Mall last night. Video courtesy of Sivin Kit's blog. It was the second rendition at the Civic Centre that was disrupted by the FRU. (see videos below)
Just a parting thought for tonight, having thought about it further this evening: I guess the title of this post "Did the FRU move in during the Negaraku?" is irrelevant. It does not matter when the FRU moved in – whether it was before, during or after the Negaraku (though of course moving around when the song is being sung is disrespectful). That merely diverts attention from the real question, which is why were the police charging at peace-loving, justice-loving rakyat in the first place?


In contrast, the Ipoh vigil last night passed without incident as police kept a low profile.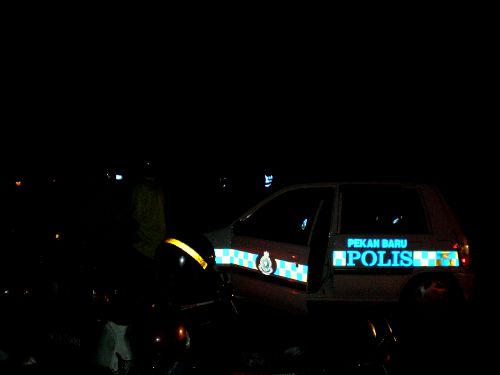 No FRU presence was visible in Ipoh; instead some police arrived in what appeared to be a Kancil! Photos by [email protected]
1722: The Star (at least its northern region edition) carried the news of the arrests last night at the bottom of page 31 in today's paper! Obviously, the editors of the "People's Paper" have got a different set of editorial priorities and criteria for news-worthiness. The report of the arrests appeared below a picture of police displaying drugs seized during a raid. "I was wondering what the arrested MP and Aduns had to do with drugs seized," a confused reader of the paper told me.
1531: Malaysiakini reports that Home Minister Syed Hamid insists he was in the dark about the police action against the candelight vigil until this morning, adding that he had not received any reports:
"Let me check (first) because police work is police work. Their responsibility is to maintain law and order, (but so far) I have not got any report," he said.

"If you have done something against law and order, the police will take action. But if you are not happy with it, bring specific details to me and let me check."
And here's another video from the folks at Malaysiakini.
1442: Antares points us to a video which indicates that the police moved in before the end of the Negara Ku:
I just viewed an incriminating video on YouTube … as the video UNDENIABLY shows, the FRU moved in BEFORE the conclusion of 'Negara Ku' thereby showing utter disrespect for the national anthem. I trust the Selangor CPO will take a look for himself and issue a sincere apology to all those who were rudely interrupted in the midst of singing the national anthem. His men clobbered a few for singing offkey and arrested others for wearing bright yellow & red T-shirts (the colours on the Selangor flag) without a police permit.
1249: MP Tony Pua confirms that he is now out of the station on a personal bond and due to report back to the station on 24 Nov. He is now in Parliament. Recalling his nightmare, he writes in his blog:
I was arrested while seeking out Ronnie Liu and the senior police officers in charge to make sure that everyone was ok.

The CPO Selangor issued the call to arrest me, and two guys came over to grab one arm each and pushed me towards the Black Maria.

I stated that I will walk, don't be rough but they tore my shirt instead. I repeated my call and three other police officers came at me, one with the knees into my belly while another attempted to kick my shin.

They then chucked me against the back of the Black Maria truck and shoved me up despite me stating that I can climb myself.

Apparently after waiting some two hours plus, it appears that they are going to keep us for the night here, and charge us tomorrow.

Weng San was also assaulted and had major bruises and some bleeding on the face. He saw the police who assaulted him here at the station, and Ronnie confronted him for his name. He appeared shaken by the demand and he refused to give his name and gave instead some very rude retorts.
1244: Malaysiakini reports that Selangor police chief Khalid Abu Bakar has denied that the police moved in on participants at a candle-light vigil last night while they were singing the national anthem.
That is what they (participants) are claiming," Khalid told reporters at the Petaling Jaya police district headquarters about midnight.

When told that there was a video recording of the police action, Khalid replied: "I am denying it."
1237: It doesn't look like last night's police action is going to deter people from attending future vigils:
Thim:
Yup, I was there too last night with another friend. And yes, the FRUs did charge at the crowd WHILE we were singing 'Negaraku'- so much for respecting the National Anthem. Attacking harmless people who were merely expressing their discontent – how brutal can they be? Is Malaysia becoming like Myanmar? Some one/people sure is/are desperate. …
Hazel:
I went about 8.10pm last nite; the police blocked the road and refused to let me in, so I tried other alternative routes but again was turned away. I have been attending the vigils for the past four weeks and we never encountered any problem; I think because RPK is out now and they are scared… They must be fools to think that the arrests will deter us away from vigils… Hey no way, it makes me more determined to attend more in the future.
foodforthought:
I have been attending this vigil peacefully every weekend, rain or otherwise, and am glad to be part of it. Let this NOT be a damper to the course and be there next weekend.
1227: Police have released all 23 people arrested except for one, who is wanted in connection with another case.
1036: Blog reader Drachen thinks the police action was over the top:
SHEER OVERKILL if you ask me! I arrived about 9.45pm – just in time to miss all the action! The place was still crawling with cops. The entire area was blanketed – three or four police officers every few metres – all the way to PJ State! AI himself could not have received a warmer welcome!
1029: All those arrested last night have been released. "Those of us who were there were allowed to bail out three persons," says blogger Lucia Lai. "We waited to sign their forms."
They must go back to the police station on 24 November to find out if any charges will be pressed against them, she adds. She also met Fr Paulino, one of those arrested last night, and introduced herself.
1019: Blog reader Chong is upset with the unsympathetic reaction from a corporate manager:
The saddest part is to hear my materialistic manager saying "Serve them right" this morning…
1015: Inside court, at the RPK sedition trial, they have just referred to his article, "Let's send the Altantuya murderers to hell'.
0952: Lau Weng San in his blog recalls his ordeal:
Then I was dragged into the truck while punched twice at my face. The police officers applied some yellow lotion on my wounds to avoid the bleeding. I manage to recognise the plaincloth who beat me. I will lodge a police report against the injuries. Ronnie and I saw him in the police station just now and Ronnie went forward to 'interrogate' him, asking him for his name. He refused to give but thank God I can recognise him…
In the comments to his blog entry, two eye-witnesses to the assault offer their services in case he needs them to testify.
0950: Meanwhile, RPK's sedition trial continues.
0937: Tony Pua is holding a press conference in Parliament at 11.00am.
0933: Paul Warren is now left wondering:
Stephen, Tony and I were a little late arriving at the Civic Centre. Parked near Lotus and wanted to walk towards the Civic Centre car park. Police cars and trucks with lights on and screeching their sirens blockaded the road. We approached the police vehicle line along the road shoulder and one Indian plainclothes cop seeing us approach started shouting at us to get out of there. We kept moving forward hesitantly and the guy started getting abusive and moved threateningly towards us. We decided to back off.

I was wearing the yellow "Boycott MSM" T-shirt and Tony and Stephen were wearing their black RPK T-shirts.

Later, we were told by those who were at the centre of the action at the Civic Centre that when the FRU/SB guys first charged, they seemed to be targeting those wearing yellow/orange and the first victims were Indian.

Now, that makes me wonder. Was this … cop who was positively rude and abusive towards us doing us a favour? He might have known that we fit the specifications of those they were targeting!
0930: It is believed that all 23 brave Malaysians arrested may have been released soon after 7.00am – but awaiting official confirmation. It is not immediately clear what legal action they will now face.
0840: Text messages are circulating among the parishoners of the Church of the Divine Mercy asking for prayers for the release of their parish priest Fr Paulino.
0630: Lucia reports she left the police station at 3.30am after a lawyer told her that each of those arrested will be interviewed, have their statements recorded and probably released only in the morning. Now she is at the police station again to help bail some of them out.
0214: Lau Weng San's blog describes how he was allegedly punched and then arrested when he went up to a truck to find out who had been arrested. Two lawyers are believed to be among those detained.
0157: The courageous Angela, believed to be the organiser of the Seremban Abolish ISA vigils, may have been detained as well. Pray for her early release.
0153: Blog reader Linda continues with her vigil for all those unjustly detained:
My family and I are keeping vigil for all those detained especially our parish priest Fr Paulino. May the Holy Spirit give them the strength to go through this ordeal. They may break our bones but not our spirit.

Please remember all those detained in our prayer. That is our greatest weapon.
Well, I met Fr Paulino once at the Church of the Divine Mercy in Shah Alam. He struck me as a remarkable priest with a social conscience.
0145: Blog reader Peng reports that the Ipoh vigil was so peaceful:
The Ipoh event tonight was, in contrast a safe affair. I noted four policemen standing far at the back of the field, just watching. At one point, one of them used a mobile phone to record the speeches. All speakers were allowed to speak their mind without interruption. I pray for those arrested in PJ tonight, that they will be treated fairly and civilly.
0117: MP Liew Chin Tong has given a statement saying he will bring up the matter in Parliament later today. He said the Selangor OCPD, who is said to be inside the station, must take responsibility for what happened. Others who have issued statements were Hannah Yeoh and Loh Gwo Burne, who pointed out that we can't even sing Negara Ku now.
0107: A member of the Bersih secretariat is now reading out the names of those arrested. It would sound like a roll of honour.
0059: A small group of church members turn up to pray for the release of those arrested. Reporters are now allowed into the station.
0031: Wudan reports from Ipoh:
Just arrived home from the Ipoh vigil. We had a great time and the turnout was good despite a heavy rain earlier. While driving, received an sms about the Amcorp mall vigil. So sad to hear what has happened in the Amcorp mall vigil. Our thoughts and prayers are with those who were arrested tonight.
Syed Albar and IGP Musa, please resign.
0029: One 53-year-old woman spoke at a press conference saying that while she was singing the Negara Ku, she was dragged from the back and fell down, hitting her head. She needed four stitches. Her 24-year-old son was detained.
0015: After all that has happened, blogger Lucia reports that Bersih member have set off fireworks a short distance away from the police station, lighting up the night sky. The rakyat are chanting, "Bersih! Bersih!" Incredible…
She adds, oops, Ronnie Liu has not yet been released. He just came out to give a statement and then went back in! "He thanked us for coming."
Hopefully some of them might be released soon. Keep praying, folks. We will not rest until they are all out.
0010: Robert had a close encounter at the Civic Centre:
Phew, that was close. We (the crowd) were at the PJ Civic Centre listening, first, to Tony Pua, and then to RPK. We ended the event by singing Negara Ku, but half-way through, the 20-odd FRU policemen started their threatening gestures by banging on their shields and yelling threats. Then, as we sang the last line, the police moved in, aiming straight into the midst of the crowd.
Pandemonium broke out. I started to make a gradual retreat. I noticed scuffles between plainclothes police officers, believed to be Special Branch people, and some of the supporters. One of my friends who was shooting away with his camcorder was manhandled and hauled away. This is a sad day. We were on the verge of dispersing and going home, and yet the police had to charge into us. Barbaric? Let the world tell us.
0008: Blog reader sad sounds… well, sad:
Just came back from the Amcorp/PJ Civic centre vigil and still can't believe that the police charged into the crowd in the midst of singing our beloved national anthem "Negaraku". Apparently, there was no warning and arrests were made randomly. It would appear that the police themselves are showing gross disrespect by disrupting the singing of our national anthem "Negaraku". Maybe someone should report the police under the Sedition Act for not respecting our national anthem "Negaraku"?
0003: Blogger Lucia at the police station reports:
We talked to some Bersih members. They told us one of their members was hit by …. We just sang Negara Ku. Now Ronnie Liu, who was also detained, just came out.
Folks, keep praying and light a candle at home for their release.