Lynas reportedly sold its rare earths for the equivalent of a little over A$5/kg compared to production costs of almost $20/kg, earning just $600,000 on the back of sluggish market prices.
Look at this share price chart for Lynas Corp (listed on the Australian Stock Exchange):
And have a look at Lynas' cash flow report for the April-June 2013 quarter.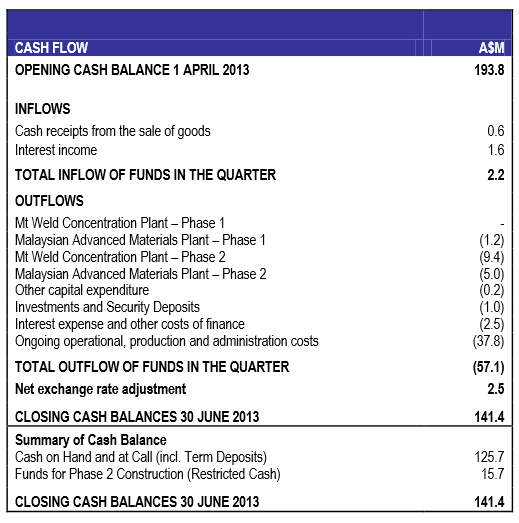 Australian Network News reports:
In the company's first earnings report since it begun a three year process of construction and licensing, Lynas earned $600,000 for the June quarter on the back of weak prices.

Lynas sold its rare earths for the equivalent of a little over five dollars a kilogram. Production costs, however, were almost 20 dollars a kilogram.

Eric Noyrez, Lynas' CEO says the result is disappointing.

"Rare earths market volumes and prices have been extremely challenging for the past six months," Mr Noyrez said.

Lynas sold 117 tonnes of refined product in the period – a long way short of its phase one target of 11,000 tonnes for the year

It reported equipment problems and processing times that were longer than expected.

Its refinery in Kuantan, Malaysia is still operating under a temporary licence until plans for a permanent waste disposal facility are approved.

Mr Noyrez says the plan was submitted in early July.
The company describes some teething problems in its quarterly report:
…the Company has identified some clogging and premature wearing of equipment that is affecting its ability to maintain this production rate in the cracking and leaching units. A series of work programs involving equipment changes and materials handling to allow the cracking and leaching units to operate continuously at nameplate production capacity have and will continue to be implemented. None of these programs involve significant capital investments and are expected to be in place over the coming months. Commercial production of REO products at a reduced volume will continue while these programs are ongoing.
Meanwhile, the DoE's data on the environmental monitoring of the Lynas plant in Gebeng was not accessbile when checked this morning. It leads to an invalid directory.
The data from Lynas, however, is available and shows that it is within regulatory or permissible limits. Similarly, for the AELB readings until April 2013.
But bear in mind, the refinery is a long way from full production capacity.