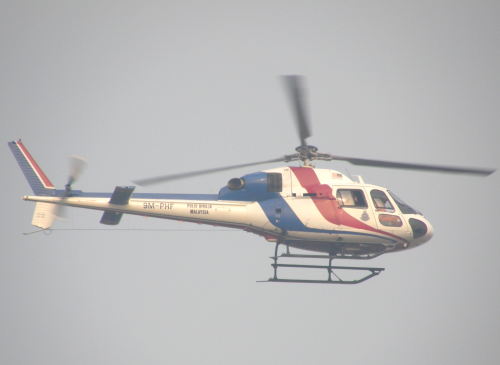 This police chopper was one of a pair that circled continuously above the large crowd on Nomination Day (Photo credit: Abang Benet)
BUKIT JELUTONG, Permatang Pasir – A helicopter, believed to be a police chopper, beamed its searchlight over a crowd of about 30,000 listening to Anwar at a Pakatan ceramah just before he brought the curtain down at midnight yesterday.
"It's okay, let them disturb us for a bit. I will complete my speech," said Anwar earlier, as the helicopter clattered overhead. "It's not always we get a helicopter in Permatang Pauh!"
Permatang Pasir, a state seat held by Pas, lies in the Malay heartland of Permatang Pauh. Thousands had gathered in a large open area in Bukit Jelutong, which was also filled by the huge travelling bazaar that follows Anwar's ceramah everywhere. I saw stalls selling everything from nasi biriani, fried jackfruit and what looked like aphrodisiacs!
The presence of police helicopters over the last couple of days gives an indication of the size of the crowds during Nomination Day in Penanti on Saturday and the big ceramah here last night.
A huge Pas logo was featured on the backdrop of the stage circled by the colours of PKR. A few ustaz were seated on stage and as I waded my way through the crowded field – I had to park a mile away – I heard a young ustaz address the crowd. He related the tale of a king or royalty who had been wronged and had to undergo much suffering and hardship to prepare him for a leadership role. This figure the ustaz compared with Anwar:
"It is this suffering that Anwar is going through under very cruel circumstances. It is a test for Anwar and only after he has gone through such cruelty (kezaliman) would he be better qualified to lead the country. This trial, this cruelty is actually allowed (directed?) by God. Compare this to the present BN leaders who have never been victims of similar cruelty; no wonder they can inflict such cruelty on others."
Comment guidelines
Please refrain from personal attacks, racial slurs, hate speech, crude language and libellous comments. Comments are entirely the commenters' responsibility and are subject to moderation.