Anwar and Syed Husin at a hotel in Shah Alam earlier (Photo courtesy of Anwar's blog)
Saiful with Minister Azalina (Photo courtesy of PKR)

2307: All quiet at the Turkish embassy at 118 Jalan U-Thant. An eye-witness passing by the embassy says he saw only about 20 reporters and police personnel, a police van and a police car. And no PKR supporters. Is Anwar really spending the night at the embassy?
2231: The police have confirmed that a medical examination has been carried out on Saiful, reports Harakah Daily this evening. "Jangan dengar khabar angin. Dengar cakap saya. Saya ketua CID," Bakri Zinin is quoted as saying.
2154: The big question now is what happens next? Will they go in after Anwar? Or will they just bide their time? Has the mattress been detained?(!!) How long can Anwar remain in the embassy? He has got to come out at some point. What happens when he resurfaces? And has this whole affair overshadowed Raja Petra's explosive allegations, the Sapp bombshell and the large oil price hike protest scheduled for 6 July?
2134: By now, the news has flashed all over the globe including, as one blog visitor notes, in the Turkish online media. Al Jazeera carries a phone interview with Anwar. "The stakes have just gone up a lot higher," Farish Noor tells me over the phone.
2010: Abdullah Badawi appears on TV3 news. He looks haggard, the bags under his eyes more pronounced. He says the government is not involved. As far as he is concerned, a report has been lodged and the police are investigating. Those who are accused will naturally deny it, he adds. But the news is not good at all for the BN. The MIC Youth chief has stepped down now.
1933: The allegations against Anwar could be seen as an attempt to halt Pakatan Rakyat's bid to take over the country, says Pas vice president Husam Musa in Harakah Daily. But he does not think it will succeed as the people are able to evaluate the situation for themselves.
1905: Blog reader Abdul sends in this comment about Anwar's links with the Turkish leader:
The Malaysian Insider is simply spinning it…. Anwar has got friends from all over the world. But what's interesting is their temerity to say the opposition used AKP tactics. Which one? … Anwar is a good friend of Turkish Prime Minister, President and senior ministers just like he has close relations with Western and Muslim leaders across the globe. Anyway, Anwar-Erdogan relations are two decades old and not what the Malaysian Insider, the propaganda tool of the Dollah regime claims to be.
1824: Anwar issues a statement from inside the Turkish embassy:
I am issuing this statement from within the embassy of the Republic of Turkey in Kuala Lumpur. I was transported to the embassy earlier this morning fearing that my personal safety was in danger. I thank all those who offered to assist me in this time of need and am grateful to the Turkish Ambassador for extending an invitation to seek refuge within the Embassy.

Since the March 8th elections, numerous credible sources from within the government and military intelligence have advised me that certain agents from within Barisan Nasional leadership have initiated plots to cause harm to me or my family or my supporters. I have been told that my assassination has not been ruled out as means to subvert the people's will and bring an end to the transformational changes taking place in Malaysia.

Notwithstanding the threats which are intended to silence my voice, I intend make public new evidence implicating that the Inspector General of the Police Musa Hassan and the Attorney General Gani Patail engaged in criminal acts of fabricating evidence in cases launched against me in 1998.

The allegations that have been made against me on Saturday are nothing more than a replay of the events which transpired in 1998 when I was sacked from the office of the Deputy Prime Minister, jailed and beaten, and then charged and convicted by a kangaroo court for crimes which I never committed. This charade was orchestrated by a corrupt Barisan Nasional leadership which made use of the entire apparatus of the state power including its control of the judiciary, the police force, and its grip on the mainstream media. These actions are being repeated today to undermine the forces of reform and renewal which were unleashed in the March 2008 elections.

I would like to assure my family, friends and supporters in Malaysia that I am safe and remain committed as ever before to continuing the struggle for a free and just Malaysia.
1819: But why the Turkish embassy? Malaysian Insider has this take:
His choice of the Turkish Embassy for protection is not surprising. Since his release from jail after the Federal Court overturned his conviction for sodomy in 2004, Anwar has struck a close relationship with Turkish Premier Reccep Erdogan.

The Opposition politician leaned heavily on strategists from Erdogan's AKP in planning Pakatan Rakyat's successful election campaign. This assistance was frowned upon by the government and since then, government officials have been suspicious of Erdogan's motives and of Anwar's link with the AKP.
1801: Another academic alerts me to this item about Saiful on Din Merican's blog:
My colleagues and I knew that he was planted by the other side. So we kept him under surveillance since the day he turned up in our office just before the March 2008 elections. It was a matter of time and we would have exposed him as someone with links to the office of the Deputy Prime Minister. He knew that the noose was tightening around his neck.

There was no security breach because he was not directly involved in the strategic activities of Parti KeADILan Rakyat. He was merely a coffee boy or a butler type.—Din Merican
1755: An academic in KL phones to say that he has learnt that Anwar's family are now at the Turkish embassy.
1745: About a hundred people are gathered outside the Turkish embassy, many of them PKR supporters, says an eyewitness at the scene.
1735: A source at PKR headquarters says that Opposition Leader Dr Wan Azizah will lodge a police report against the IGP and the AG tomorrow morning.
1725: The overwhelming reaction on blogosphere, as far as I can make out, is one of disbelief – and outrage. There is a sense of deja vu as it looks like a re-run of the 1998 drama. Will a new mattress be trotted out in court again?
1700: Saiful is actually one of four full-time assistants to Anwar, but since he is new, he was assisting one of the other special assistants, says PKR media coordinator over the phone. She adds that there will be a gathering in Parliament tomorrow to express concern about the latest developments.
1530: A source now at the PKR headquarters says that Anwar is now at the Turkish embassy. He has gone there for his own safety.
The aide who has reportedly accused him of sodomy, Mohd Saiful Bukhari Azlan, 23, signed up as a volunteer before the 8 March general election. He later became one of a coterie of special assistants for Anwar, filling up one of the positions vacated by the PKR advisor's earlier aides who had won seats in the election. The source told me that the party does not have strict academic criteria in its selection of aides.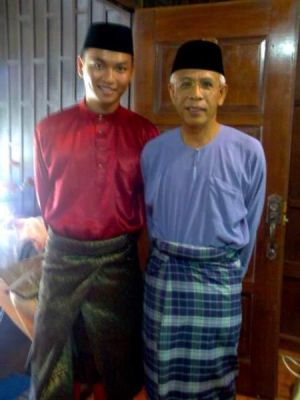 Saiful with Minister Shahrir
Saiful with Higher Education Minister Mustapha
Saiful at Najib's office