Old Penang: Tagore's visit in 1927
Few people are aware that the famous Indian Nobel laureate for literature, Rabindranath Tagore, visited Penang in 1927. He also passed by this way earlier in 1916.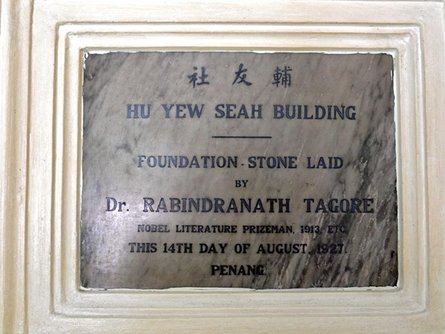 This is the Hu Yew Seah building in Madras Lane for which Tagore laid the foundation stone in 1927. You can see one wing of the building indicates '1914' and the other '1928'. The building was used as a place to teach the Chinese language especially to the English-educated Chinese, including the Baba or Straits Chinese.
During one of his voyages to Penang, Tagore reflected on the beauty of the natural world. But upon his arrival in Penang and surveying the bustling activity at Penang port, the poet could not help but reflect on the greed that plagues humanity. This was revealed to me by historian, author and Gardiner Professor of Oceanic History and Affairs at Harvard University Sugata Bose, after his Penang Story Tagore lecture "Building bridges across the Bay of Bengal: Tagore and his contemporaries' on 28 August 2012. (Incidentally, Sugata is the grandnephew of Subhas Chandra Bose, who organised the Indian National Army to try and free India from British colonial rule during World War II. Subhas Chandra Bose and Tagore knew each other.)
I told Sugata that Tagore must have had a premonition while at Penang port, for today the federal government is privatising Penang port to a crony for private profit despite the Penang state government making it known that it wants to take over the port. Ah, human (and corporate) greed, don't we know all about it.
This was Tagore's itinerary in Penang in 1927. He even spoke at Chung Ling High School.
Penang
Saturday, 13 August 1927
Arrived by train. Greeted by Mr. H.C. Bathurst, Deputy Controller of Labour.

Sunday, 14 August
Laid the foundation stone of the new Hu Yew Seah building in Madras Lane. The Hu Yew Seah Chinese Club gave a public reception at which the leading members of every community were present. Tagore spoke about his visit to China, and how Asia was a birthplace of the great religions of the world.

Lecture at Chung Ling High School, where the headmasters and schoolteachers of the various Chinese schools in Penang were assembled.

Monday, 15 August
Met Chinese schoolchildren at Chong Ling High School. Public lecture on "Nationalism" at the Empire Theatre Hall chaired by Mr R Scott, the Resident Councillor. Tagore spoke about Visva-Bharati, and how India must understand Chinese culture and history.

The Indian community of Penang hosted a dinner for Tagore.

Tuesday, 16 August
Gave a lecture described by Suniti Chatterji as the "best public lecture of the poet in Malaya". Took a trip around the island before leaving in the afternoon on the SS Kuala for Belawan, Medan. Before he left, Tagore gave the 'Straits Echo' a message and wrote a letter of thanks to the 'Malacca Observer'.

(Itinerary researched and compiled by Angela Oon)
For the full itinerary of Tagore's visit to Singapore and Malaya: Check out this pdf file of the 'Selected speeches and writings of Rabindranath Tagore', the Nalanda-Sriwijaya Centre at the Institute of Southeast Asian Studies, Singapore
Tagore received the Nobel Prize in literature in 1913 for his poetic work 'Gitanjali'.
Is Tagore relevant to us today? Of course. A future of rich cultural diversity, acceptance of each other's culture, can be greatly helped by going back to the genius and creativity of Rabindranath Tagore, writes Lawrence Surendra in this article in Aliran Monthly.
Sugata Bose wrote another paper on the universalism of Tagore.